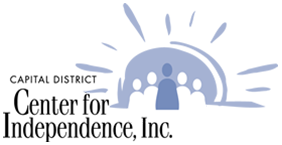 The Capital District Center for Independence Inc., (the Center, Center for Independence or CDCI), is a private not-for-profit (501(c)(3), community-based Independent Living Center (ILC), located in Albany, NY which provides non-residential services to over 2,000 people with disabilities annually living in the Greater Capital District of New York State.
Capital District Center for Independence, Inc. was established in 1979, to promote independent living for people with disabilities through a wide variety of services, information, education outreach and trainings to people with disabilities.   Services provided by the Center include advocacy and self-help instruction, which includes a peer-based approach to managing one's affairs, the development of self-determination, decision-making skills, self-advocacy skills, assistance in day-to-day community participation, and other social roles to maintain or regain their independence in the community. In addition to individual-based services, the Center works to educate the public, inform public officials, foster improvements in programs that serve people with disabilities, protect the civil rights of the disabled, and broaden access to employment, education, housing, transportation and social/recreational opportunities.
email: info@cdciweb.com
Community Services:
Accessibility Consultations—We can visit your home, business, school and/or any other public building to make suggestions for making the building more accessible. Provide you with information on appropriate accommodations and modifications which can be done to improve access for persons with disabilities.
Healthy Living Program—We offer a six week workshop on living well with a disability and trainings on healthy living and wellness. Click on the events link above or contact the Center to find out what programs are currently being offered.
Support Groups—We offer ongoing support groups as well as fixed time support groups. We also offer free accessible space for support groups and encourage new support groups to form. For more information on current support groups or to inquire about space usage see support group tab on our home page or contact the Center directly.
Speaker Services—We will present to groups and businesses of all types on issues related to Independent Living, Center Services, programs and will provide information and technical assistance on the ADA, accessibility requirements, social security and many other disability related topics.
Disability Awareness Programs—We provide presentations for schools, civic and community organizations.  Disability Awareness programs are designed using a variety of different disabilities to increase the audiences sensitivity to disability issues.
Capital District Center for Independence, Inc.
1716 Central Ave
Albany, NY 12210
Capital District Center for Independence, Inc.
Upcoming
Events
There are no scheduled events.